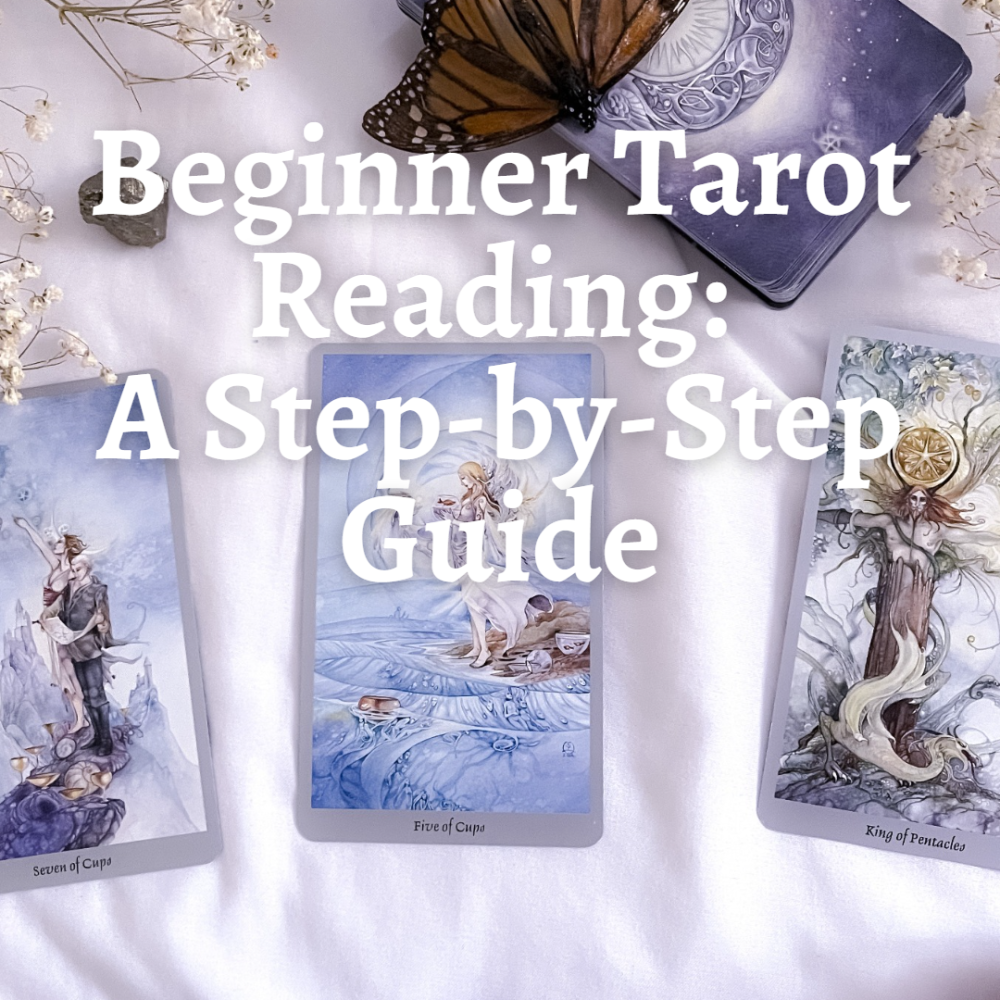 Have you ever been curious about the mystical world of tarot? Perhaps you've seen a tarot deck at your local bookstore or heard some intriguing stories about people who have had their fortunes told. The art of tarot reading can initially seem intimidating, but with a bit of guidance, anyone can learn how to read tarot cards. Whether you're exploring spirituality, seeking personal growth, or just looking for a fun new hobby, tarot can be a fascinating journey. In this guide, we'll walk you through the basics of beginner tarot reading, from selecting your deck to interpreting the cards' meanings. So grab a cup of tea, settle in, and let's dive into the world of tarot together.
What is a Tarot Deck?
A tarot deck is a collection of 78 cards that are used for divination, self-discovery, and spiritual guidance. The cards are divided into two main sections: the major arcana, which consists of 22 cards, and the minor arcana, which consists of 56 cards. Each card has its own unique symbolism and meaning, which can be interpreted in a variety of ways depending on the context of the reading.
The history of tarot is shrouded in mystery, but it is believed to have originated in 15th-century Italy as a game of chance. It wasn't until the 18th century that tarot began to be used for divination, and it has since become a popular tool for spiritual seekers worldwide.
How Tarot Reading Works
Tarot reading is a form of divination that involves drawing cards from a tarot deck and interpreting their meanings to gain insight into a particular question or situation. The process of tarot reading can be as simple or complex as you like, but the basic steps involve shuffling the deck, selecting a card or cards, and interpreting the symbols and meanings to gain insight into the question or situation at hand.
Many tarot spreads can be used for different types of readings, from simple one-card spreads to more complex spreads involving multiple cards. The key to a successful tarot reading is to approach it with an open mind and a willingness to explore the symbols and meanings of the cards.
Benefits of Tarot Reading
There are many benefits to learning how to read tarot cards, including:
Increased self-awareness and self-discovery
A deeper understanding of your own intuition and spiritual path
Insight into your relationships, career, and life path
A sense of empowerment and control over your own life
A fun and engaging hobby that can be enjoyed alone or with others
Tarot reading can be a powerful tool for personal growth and spiritual exploration, and it can help you to connect with your inner wisdom and intuition.
Choosing Your First Tarot Deck
Choosing your first tarot deck can be an exciting and overwhelming experience. Hundreds of different tarot decks are available, each with its unique style and symbolism. The key is choosing a deck that resonates with you and speaks to your style and interests.
Some popular tarot decks for beginners include the Rider-Waite-Smith deck, the Thoth deck, and the Wild Unknown deck. These decks are widely available and are often used as the basis for many tarot courses and books.
When choosing your first tarot deck, it's important to consider the artwork, the symbolism, and the overall vibe of the deck. You want to choose a deck that inspires you and excites you to explore the world of tarot.
Understanding the Major Arcana Cards
The major arcana cards are the tarot deck's most well-known and recognizable cards. These 22 cards represent major life events and archetypes, and they can provide insight into the deeper themes and energies at play in a particular situation.
Each major arcana card has its own unique symbolism and meaning, and they can be interpreted in various ways depending on the context of the reading. Some popular major arcana cards include:
The Fool: Represents new beginnings, a sense of adventure, and taking risks.
The Magician: Represents creativity, manifestation, and the power of the mind.
The High Priestess: Represents intuition, mystery, and the subconscious mind.
The Empress: Represents abundance, creativity, and nurturing energy.
The Emperor: Represents authority, structure, and stability.
Understanding the major arcana cards is an important part of tarot reading, as they can provide insight into the deeper themes and energies at play in a particular situation.
Understanding the Minor Arcana Cards
The minor arcana cards represent the everyday events and experiences of life, and they can be used to provide insight into specific situations and questions. The minor arcana consists of four suits, each with its own unique symbolism and meaning.
The suits are:
Wands: Represents creativity, passion, and inspiration.
Cups: Represents emotions, relationships, and intuition.
Swords: Represents intellect, communication, and conflict.
Pentacles: Represents material wealth, career, and practical matters.
Each suit is numbered from Ace to Ten, with four Court Cards (Page, Knight, Queen, and King) representing different personality types and energies. Understanding the minor arcana cards is essential for any tarot reader, as they provide a detailed look at the specific energies and influences at play in a particular situation.
Basic Tarot Spreads for Beginners
There are many tarot spreads that can be used for different types of readings, but as a beginner, it's best to start with a simple spread that can be used for various questions and situations.
One of the most popular spreads for beginners is the three-card spread, which involves drawing three cards and interpreting their meanings in relation to the past, present, and future. This spread is great for gaining insight into a particular situation or question and can be used for various topics, from career and relationships to personal growth and spiritual exploration.
Another popular spread for beginners is the Celtic Cross spread, which involves drawing ten cards and interpreting their meanings in relation to the situation at hand. This spread is more complex than the three-card spread and is often used for more in-depth readings.
How To Do A Simple Three Card Spread
So many tarot card spreads are available to read Tarot cards. In order to read the cards effectively, you have to be familiar with their meanings and how you relate to them when they are in a spread. Once you get accustomed to each card on its own, you are ready to start learning how to read them in a spread. Most Tarot Card readers are familiar with the Celtic Cross Spread, but a three-card basic spread is a good way to learn how to read cards for beginners.
Even before you start to use a three-card spread, there is a good exercise you can do daily. Its purpose is to familiarize yourself with the cards and the idea of reading them. It is easy to do and will strengthen your abilities when it comes to reading cards in general.
You shuffle your cards and pull one a day to see what your day will be like. Based on the card you pull, you give yourself a reading with that card. Analyze what that card will mean to you that day. This is an excellent way to get familiar with the cards and their meanings. It also helps you develop your sense of intuition, which is very important for reading the Tarot Deck.
Now that you know that, let's move on to the Three Card Spread.
Here are the Steps to conduct a Three Card Reading:
Focus on Your Question
Shuffle Your Cards
Pick one of the Cards and put it in the center of the table. This card represents the "present situation" in relation to the question you asked.
You will then pick another card and lay it to the left of the first card. This is the past in relation to the question you asked. Keep in mind the past could be the day before or even the night before. It doesn't mean years ago necessarily based on what you asked. This card connects you to the present situation or middle card.
Next Pick your third card and lay it to the right of the middle card. This is the future or outcome position to the question. Keep in mind that the future could mean later that day. It doesn't necessarily mean a year from now.
And there you have it! You just did a reading. Simple and to the point. When you get to the point that this is easy for you, you can begin to explore more complex types of spreads.
Tips for a Successful Tarot Reading
Approach the reading with an open mind and a willingness to explore the symbols and meanings of the cards.
Take your time shuffling the deck and selecting your cards, and focus on the question or situation at hand.
Use your intuition and trust your instincts when interpreting the cards.
Keep a tarot journal to track your progress and insights.
Practice regularly to build your skills and confidence.
Common Tarot Reading Mistakes to Avoid
Focusing too much on the literal meanings of the cards and not exploring the deeper symbolism and metaphors.
Relying too heavily on memorized interpretations and not using your intuition and creativity.
Overanalyzing the cards and trying to find meaning in every detail.
Neglecting to consider the context of the reading and the specific question or situation at hand.
Forgetting to take care of yourself and your energy before and after a reading.
Finding a Tarot Reading Community
Tarot reading can be a solitary practice, but it can also be a great way to connect with like-minded individuals and build a community of support and encouragement. Many online forums, Facebook groups, and local meetups are dedicated to tarot reading and spiritual exploration.
Joining a tarot reading community can allow you to share your insights and experiences, ask for guidance and advice, and connect with others who share your passion for tarot.
Intuition And Tarot Reading
You don't have to be psychic to use Tarot cards. You do need, however, to be in tune with your intuition. Our intuitions are our natural ability to sense things in the world around us instinctively. Intuition has nothing to do with our cognitive abilities. It is a gut feeling we get regardless of the logistics of a particular situation. Intuition lets us know when something is wrong and when all appears right. For example, there are times when we may meet someone who appears wonderful to everyone but still may feel something is wrong with that person. We may not be able to put our finger on it, but we know something isn't quite as it should be. That is our intuition warning us. What happens in a case like this is that although we will act friendly outwardly inwardly, we are guarded because of the feeling we have on a gut level.
Being psychic now is a little different. Psychic ability is one in which one's senses go beyond the normal range of perception. It is considered a gift of sorts. Different people who are considered "psychic" may actually have a specific type of gift. Some of the ways this gift of being psychic can manifest is in being able to see things beyond normal vision. Some can hear beyond normal hearing and some can channel into the spiritual realm. These are not the only ways to be psychic, and these are simply some of the more obvious forms it takes. However, just like intuition, a person who is psychic can innately use their gift without having to think about it consciously.
To be an effective reader, one does not have to be psychic per se but should be attuned to their intuition. The more we use our intuition to interpret the tarot, the stronger it becomes. It's like anything else. The more you do something,  like using your intuition in this case, the better you become. Tarot cards are tools with which to focus our intuitive senses on. We also use our intuition to focus on the person being read to get an accurate picture of what is going on in that person's life.
Some people are naturally intuitive and even psychic while others work a little harder to get the same sense of what's happening. Buying a box of tarot cards is not "magic" in and of themselves. It's the reader's energy that is imparted into the cards that makes them effective for the reader. The person's connection to the symbolism on the cards is what creates the magic. The symbolism opens the person's intuition in relation to the card.  This is because each picture creates a feeling in the person that is in turn, interpreted based on the person's feeling and applied to a reading.
The Importance Of Clearing A Tarot Deck
When you bring home a new deck of tarot cards, you will want to clear them. Clearing is spiritually cleaning the cards to remove any negative energy or blocks they may have accumulated. When you clear a deck of tarot cards for the first time, you also put your energy into the deck. There are many ways one can clear a deck. It's a matter of preference for the reader.
It is suggested that when one gets a new deck of tarot cards that they are spiritually prepared and cleansed. This is so you can read more accurately. Negative energy and blocks can impede the clarity of a reading. When you clear a tarot deck you are preparing them for use. In addition to clearing the tarot cards, many readers also cleanse the space and objects they use in conducting readings. The room you read in, the table you use, and any other things related to the reader and the cards can be cleansed prior to a reading.
The idea is that spiritually clean cards and space give a clear reading free of the negative or blocking debris that collects naturally. This includes energy from other people and things like unwanted energy. Clean energy portends positivity. And you want positivity when you are doing a reading.
In addition to initial clearings, many readers do little cleanings in between their readings to keep their cards clean. This ensures that any negativity that was picked up in a consultation is dismissed and removed before the next reading. Some readers clean themselves and their cards after every reading, while others do it periodically. They may do it on a specific day and time on a regular basis. It doesn't matter how you clear your cards; all that matters is that you are calling good energy to assist you and remove any negative energy.
All types of divination require some sort of energy in order to conduct the reading. Clearing the cards and space eliminates the spiritual residue that the energy builds. This helps reduce the possibility of inaccurate and false readings clouded by that debris. This is especially true for those readers who let their clients touch the cards. When someone touches a reader's cards, their cards are then picking up other people's energy, physically and psychically. In that case, you don't want the next reading to have the last person's energy attached to it.  Clearing your tarot deck and space is like giving them fresh air to breathe. You have to breathe fresh air yourself, and so do the cards and your space to help you give you the best reading you can.
How Often Should You Get A Tarot Reading?
One of my FAQs is, "How often should I have a Tarot Card reading?" There is no right answer to this. It depends on your purpose– what type of reading you are having and how you use it. If you are looking for some indication about what is happening in general in the future, then you could have a reading every six months or so, or perhaps every year.
This kind of reading tends to involve a bigger "spread" or "layout," as Tarot Readers call it, with more cards in it. This allows a broader view of trends that may be coming into play around you. It usually tells a reader whether you are in a time of change or relative stability– whether new stuff will happen or if things will remain very similar to how they are now. You don't need this kind of reading very frequently. It's "big picture" stuff and tends to change slowly.
If you are looking at one issue at a time, such as if you are going to get a new job soon, you can ask that question with a smaller spread. A few cards or a Celtic Cross will be fine and will tell you the possibilities in that situation. The reading might tell you if you need to add to your skills and head off in a new career direction or search more thoroughly for a job than you are currently doing. If you asked about moving to a new house, it might say that moving would be disruptive now. The Tarot is always more than just "Yes" or "No". Usually, it gives you some advice or insight as well.
With a reading based on one specific topic, you can ask whenever you like as long as the topics are different. It's no good asking the same thing often because the answers become confusing and often merely reflect how you feel that day. I always try to discourage people from becoming dependent on divination. Asking the same question repeatedly, trying to nag the cards into telling you what you want to hear is unhealthy. Sometimes life doesn't give us what we want, and we have to accept that and get on with things as best we can.
It's better not to ask trivial questions. I have found that the Tarot works best when you've thought out your question carefully and put it in a sensible manner. When you have an answer to a question, then it's a good idea to go away and reflect on it and see how that answer can help you with your problem. That is one of the strengths of the Tarot – guidance. It can help us to see solutions for ourselves.
Using Tarot wisely, it becomes like talking to a good friend. The answers often open up new ways of looking at our lives that can help us bring out the best in ourselves in the future. Like all good friends, it responds best if you take notice of the answers it gives.
Psychic Tarot Reading
Tarot cards can be used as a tool for psychics to link in with spirits and guides, to offer guidance that may relate to the past, present and occasionally, the future.
Tarot cards can be laid out in various ways and include any number of cards drawn. Some psychics may even use a combination of 2-3 tarot decks. Ultimately, the messages and guidance offered will be of meaning and truth, and essentially, is a message that needs to be given to the querent.
All tarot cards come with meanings, and some people may only use this way of giving readings. Some psychics, however, will throw away the books accompanying the tarot cards and use only links with spirit to give messages. The duration of tarot psychic readings given will vary. However long or short the readings may be, the messages given will be honest and give meaning and validation to the recipient.
Most authentic psychics will not elaborate or exaggerate any information to lengthen readings. When tools such as tarot are used, they are read using mediumistic and spiritual direction (intuition). This means that cards will be read individually for each person. For example, a person may choose three cards from the deck. E.g. Three of Swords, The Tower, The Priestess. The psychic/medium will then give their messages and guidance to this person. A second person can shuffle this same deck of tarot cards and pull out these same three cards. The messages given to this person will be different and have different validations.
There are many objects (tools) used by a medium of psychic to enable their connections to manifest in the same way as a tarot. Some of these include crystals, crystal balls, colour, rune stones, angel cards, palmistry, and psychometry.
To define your best method is to sit in a development circle or participate in a few specified workshops to find your niche and develop such skills with a reputable teaching medium.
Conclusion
Tarot reading is a powerful tool for personal growth, self-discovery, and spiritual exploration. It can provide insight into your relationships, career, and life path and help you to connect with your inner wisdom and intuition. By following the tips and guidelines outlined in this guide, you can learn how to read tarot cards and embark on a fascinating journey of self-discovery and spiritual exploration.