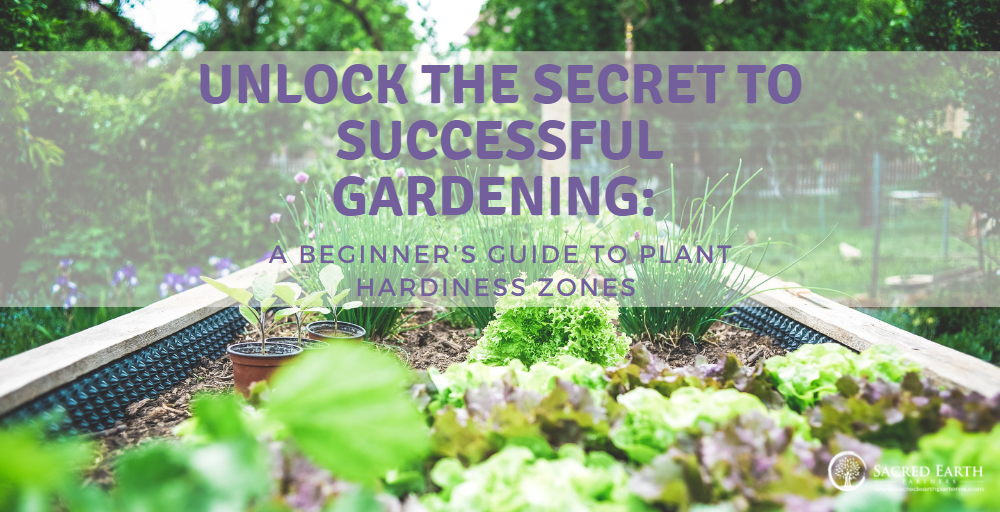 As a beginner gardener, you may be eager to plant your favourite flowers, fruits, and vegetables in your backyard. However, before you begin, it is important to understand the concept of plant hardiness zones. This will help you choose the right plants to thrive in your local climate, thereby increasing your chances of a successful gardening experience. In this article, I will provide a comprehensive guide on plant hardiness zones to help you unlock the secret to successful gardening.
Introduction to Plant Hardiness Zones
Plant hardiness zones identify areas of the world with essentially the same average annual temperature and precipitation. Gardeners can use the minimum and maximum temperatures that various plants can withstand in a given zone to narrow down their options. Gardeners in North America can use plant hardiness zone maps, created by the United States Department of Agriculture (USDA) and Natural Resources Canada, to determine which plants are most suited to their climate. You can obtain a map of your country on the official government website.
What are Plant Hardiness Zones?
The term "plant hardiness zone" refers to an area's average annual minimum and maximum temperatures and precipitation, respectively. Minimum and maximum annual temperatures are used to divide the world into distinct climate zones. The coldest region is Zone 1, and the hottest region is Zone 13.
When deciding which plants would do best in a certain area, gardeners can consult the plant hardiness zone map for guidance. Plants adapted to Zone 5 conditions, for instance, may survive temperatures as low as -20 to -10 degrees Fahrenheit. Plants that can survive temperatures as low as 20 to 25 degrees Fahrenheit are ideal for Zone 9a gardens.
Importance of Plant Hardiness Zones
Successful gardening requires knowledge about plant hardiness zones. It's risky and maybe futile to try growing plants that aren't well-suited to your region's environment. You may lessen the likelihood of plant death and raise the likelihood of a fruitful gardening experience by choosing plants that are adapted to your local climate.
Gardeners can use plant hardiness zones to select plants with a higher chance of resisting pests and diseases. It's more likely that plants that have been adapted to a specific zone will be able to withstand the pests and diseases that are prevalent there. This can help you use fewer harmful chemicals in your garden, making your gardening more eco-friendly.
How to Determine Your Plant Hardiness Zone
You can use the Plant Hardiness Zone Map for your country to determine your plant hardiness zone. This map divides the country into 13 zones based on the minimum temperature that a particular area experiences during the year. To determine your zone, locate your area on the map and find the corresponding zone number.
It is important to note that the plant hardiness zone map is just a guide and should not be used as the sole determining factor when selecting plants. Other factors, such as soil type, sunlight exposure, and moisture levels, should also be considered when choosing plants for your garden.
Factors that Affect Plant Hardiness Zones
There are several factors that can affect plant hardiness zones, including altitude, latitude, ocean currents, and microclimates. For example, areas that are located at higher altitudes may have colder temperatures than areas at lower altitudes, even if they are in the same zone. Similarly, areas that are closer to the equator may have warmer temperatures than areas farther north, even if they are in the same zone.
Ocean currents can also have an impact on plant hardiness zones. Areas that are located near the coast may have milder temperatures than areas that are located inland. Microclimates, which are small areas with unique weather conditions, can also affect plant hardiness zones. For example, a sheltered area may be warmer than the surrounding area, allowing plants that are not suited to that zone to thrive.
Tips for Gardening in Different Zones
When gardening in different zones, it is important to consider your area's specific climate and weather patterns. Here are some tips for gardening in different zones:
Zone 3: Choose plants that can tolerate cold temperatures and short growing seasons. Consider using cold frames or other methods to extend the growing season.
Zone 5: Choose plants that can tolerate both cold and hot temperatures. Consider using mulch to help retain moisture and regulate soil temperature.
Zone 7: Choose plants that can tolerate hot summers and mild winters. Consider using drip irrigation to conserve water and reduce evaporation.
Zone 9: Choose plants that can tolerate high heat and humidity. Consider using shade cloth or other methods to protect plants from intense sunlight.
Protecting Your Garden from Extreme Weather Conditions
Extreme weather conditions, such as frost, high winds, and heavy rain, can have a significant impact on your garden. Here are some tips for protecting your garden from extreme weather conditions:
Frost: Cover plants with blankets, tarps, or other materials to protect them from frost. Consider using row covers or other methods to extend the growing season.
High winds: Use stakes or other methods to support tall plants and prevent them from being damaged by high winds. Consider using windbreaks or other methods to reduce wind damage.
Heavy rain: Use raised beds or other methods to improve drainage and prevent waterlogging. Consider using mulch or other methods to prevent soil erosion.
Conclusion and Final Thoughts
Successful gardening requires knowledge about plant hardiness zones. Plants that are well-suited to your area's weather conditions will be healthier and more likely to thrive in your garden. When choosing plants for your garden, you need also think about things like the soil, the amount of sunlight they will get, and how much water they will need. By keeping these suggestions in mind, you can discover the key to a flourishing garden and bask in its beauty for years to come.
Photo by Markus Spiske on Unsplash